Braces are not only for teens. The American Association of Orthodontists suggests that parents schedule a first consultation for their children around age seven. That's a great age for Dr. Ardy to evaluate getting braces for your children in South Gate. Early intervention can cut overall treatment time in half for the years to come.
Dr. Ardy is pleased to offer a variety of services to his patients. Call today to set an appointment. At Omid Dental Office in South Gate, we'll treat you and your child with the most exemplary professionalism, top-quality technology, and comfortable care. With the help of braces and orthodontic tools, we can detect and correct dental irregularities, jaw/bite disorders and straighten your child's teeth.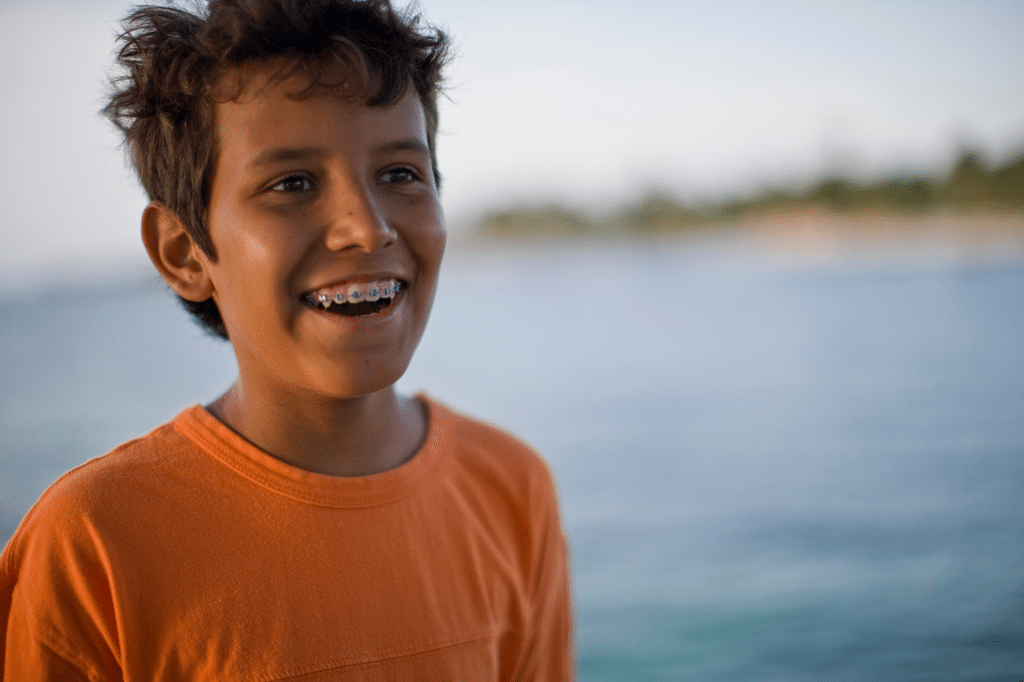 IT MIGHT BE A GOOD IDEA TO START TREATMENT EARLY
You may see more 2nd and 3rd graders wearing braces these days. Proper treatment should usually begin before adolescence. Your child's mouth will contain a mixture of baby and permanent teeth that have not yet erupted around the age of seven or eight. Now is an excellent time for a first examination. 
The objective is to deal with present and anticipated issues as soon as possible rather than later. Dr. Ardy can predict the health, appearance, and functionality of your child's adult teeth. 
It's better not to wait until potential problems have progressed. Early detection and planning may help avoid more invasive procedures like jaw surgery or teeth extractions in the future.
An earlier diagnosis can lead to speedier treatment and better outcomes. Because a significant growth and development stage has already happened, your child's therapy options may become limited around age 12.
THE FIRST TREATMENT PHASE
A thorough examination is required to make a complete diagnosis and develop the best treatment plan. 
Treatment in phase one, often known as "interceptive" treatment, usually begins around age seven. It's commonly referred to as "early treatment," or at the very least, "early evaluation." Children's jaws are more flexible at this age, and there are many potentials for the doctor to influence growth.
BRACES MIGHT BE AN EFFECTIVE OPTION FOR YOUR CHILDREN
Traditional braces can improve your child's smile and, more significantly, their dental health. Braces are worth considering if your child has overcrowded teeth, crooked teeth, gaps between the teeth, or poor upper and lower jaw alignment. 
If left untreated, your child's condition will deteriorate as they grow older. The more packed your child's teeth are, the more difficult it is to properly clean them, leading to dental decay, bad breath, and gum disease.
THE BENEFITS OF BRACES FOR CHILDREN
Here are some of the long-term advantages of braces:
Braces can help your child chew food more efficiently.
Braces can help your child speak more clearly.
Braces can make it easier for your child to brush, floss, and clean teeth.
Braces can help prevent protruding teeth (and the injuries they may cause).
Braces can also improve your child's self-esteem and confidence in their smile. While such things may not be as critical as your child's health, they do play a significant role in your child's mental and emotional well-being.
CALL TODAY FOR A CONSULTATION
Dr. Ardy and his skilled staff at Omid Dental Office in South Gate can help you look forward to your child's future. No matter your child's age, we know how to work with changing teeth, gums, and jaw structure. We'll make sure your child's smile feels and looks great. 
Don't wait to get started on your child's future health and comfort. Call today, and we'll make sure they can look forward to a beautiful smile.