Your smile is far more than just an expression, your smile reflects the physical health of your teeth and gums. Orthodontics, such as Invisalign, can give you the beautiful straight teeth you've always wanted and a proper bite that will help you chew food better, smile more often, and maintain your oral health and overall health. Omid Dental Office, with its specialists in Orthodontics (Braces) in South Gate offer various types of braces for children, teens and adults, including clear and invisible braces. Omid Dental provides several hassle-free payment plans to make braces more accessible to you and your family.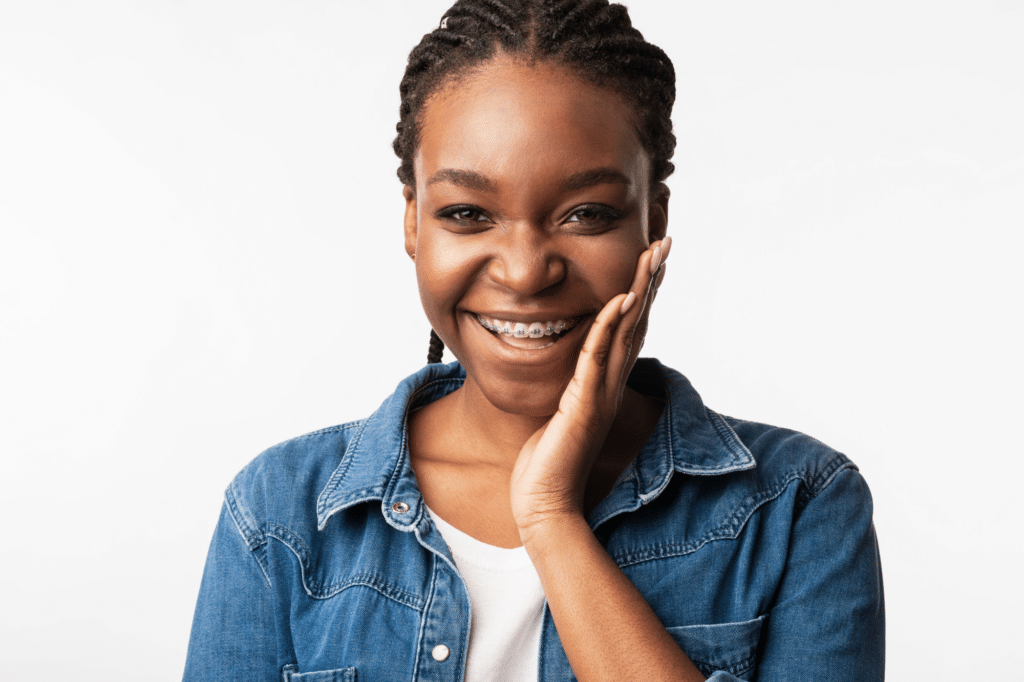 At Omid Dental, we have a staff with the highest education and qualifications. This includes having the qualifications to perform different orthodontic treatments in our office. Getting a smile that brings you confidence is now easier than ever, as it can be done right here in dental practice. If you feel insecure about your teeth's alignment and want to change that, you have come to the right place! Below we have listed some of the most popular orthodontic procedures so that you can have a better understanding of what is available to you. Come see us today if you are in the South Gate, California area! 
Traditional Braces: Traditional metal braces are among the most well-known orthodontic treatments for straightening your teeth. The process can be extensive, but it is painless and leads to brilliant results. Traditional braces involve the placement of metal brackets and wires to push and pull your teeth into a new position. The archwire that connects to the brackets will need to be adjusted every now and then to keep your teeth moving and in a tight position. 
The length of your operation will be determined by the degree of misalignment you have and the number of issues you want to address. However, the average treatment time is 10 to 12 months. When you express an interest in traditional braces, we will schedule a consultation with you, during which we will discuss and build a customized treatment plan for you. We want you to understand the method entirely from the beginning.
Clear Aligners: Clear aligners are a less invasive procedure when it comes to straightening your teeth. Clear aligners will straighten your teeth using customized aligners made out of dental plastic. The dentist can create the aligners using x-rays and digital technology. You should wear the aligners for 22 hours of the day, only removing them to eat and brush your teeth. Over time you will begin to notice the results in your smile.
 Just like traditional braces need adjusting, so do aligners. You should plan to return to the dentist every 3-4 weeks to receive a new set of clear aligners. Each set is designed to push your teeth into a better position. The entire procedure can take anything from 6 to 12 months to finish. Because your teeth will not be covered beneath metal brackets and elastics, the result of your clear aligners will be more evident.
Lingual Braces: Lingual braces also use metal brackets and wires to straighten your teeth, but they are placed onto the backside of your teeth. This means that no one will be able to tell that you have braces. Lingual braces are not for just anyone, especially if you have an overbite. The process is similar to traditional braces, with appointments for adjustments and the amount of time it takes to straighten your teeth. Lingual braces are efficient and will correct the majority of your problems. If you are looking for a way to hide your braces, this could be a good option for you! 
When you come into Omid Dental in South Gate, California, we want you to understand all that we have to offer. It does not matter the current condition of your teeth; if you want to make them straighter, then we have something for you. If you have any questions about our different orthodontic treatments, please contact us today! We look forward to working with you!
How much do orthodontics cost?
Do you think you can't afford braces? Well think again! Omid Dental Office offers affordable and low cost braces for children, teens and adults of South Gate, Downey, Lynwood and other neighboring cities. The cost of braces (Orthodontics) varies on several different factors.
Length of Treatment
Orthodontic Appliances
Additional treatment and Possible Surgical Treatments May Change the Cost!!!
Braces financing and payment plans
Omid Dental Office offers many ways to pay for braces through different payment plans, financing options and our very own Omid Dental Discount Plan to make treatment affordable and easy. Our payment plans allow you to pay for your treatment on a weekly or monthly basis, as do our financing options. Remember, we also offer these payment plans at 0% Interest to you!!! Omid Dental also accepts all major credit cards.
Can you pay for braces using insurance?
Yes! It is certainly possible to use your insurance to pay for braces; our team will just have to verify if your plan includes "Orthodontic Coverage". Many dental insurances plan cover a portion of your treatment costs and some even cover the full cost!! If your plan does not cover "Orthodontic Coverage", it is possible to purchase an orthodontic plan with your insurance carrier. Contact your insurance for benefit details specific to your plan.
Does DentiCal (Medi-cal) pay for orthodonitcs?
It is possible that Medicaid may cover a portion of the cost of braces for children under the age of 21 if the treatment is considered "medically necessary". Unfortunately, orthodontic treatment for only cosmetic purposes is not covered by Medicaid for children or adults at this time. A 100% Free consultation is the first step to help you determine whether the braces will or will not be covered for you or your child.
If you have any questions about orthodontics in South Gate, CA, feel free to contact us today at (323) 569-5000. We would be happy to answer your questions