Are you displeased with the appearance of your teeth? Are you trying to find a quick, simple way to whiten your teeth? The ideal remedy is our porcelain dental veneers in South Gate CA. They are easy to install and will immediately enhance the size, shape, color, and length of your teeth.
Let Omid Dental demonstrate how simple it is to achieve the stunning smile of your dreams!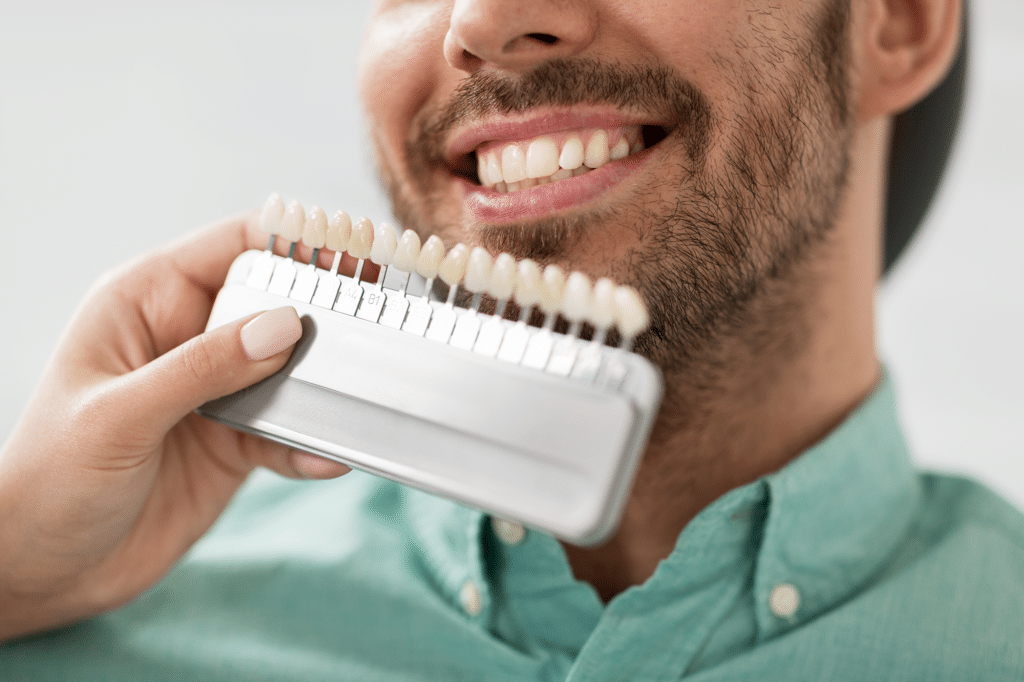 What are Porcelain Veneers, and How Do They Work?
Dental veneers are thin, individualized shells used to cover teeth' fronts. They match the color of your natural teeth. Veneers are a fantastic approach to improving the appearance of your teeth, and we can use them to repair a wide variety of dental concerns, including:
Stained or discolored teeth
Teeth with cracks or chips
Oddly shaped or misaligned teeth
Teeth with spaces between them
Who is a Candidate for Porcelain Veneers?
Anyone dissatisfied with their teeth may consider dental veneers a great option. They're also suitable as an alternative to more invasive dental procedures like braces or dental implants. 
What are the Prices for Dental Veneers?
The price for porcelain veneers can vary depending on a few things, such as the number of teeth you have treated. Dental veneers are typically less expensive than other cosmetic dental operations, such as dental implants.
During your consultation, we will offer pricing estimates that will be useful in determining whether veneers are the best option for you. We work with numerous insurance companies and will even help submit your claim on your behalf. We also partner with CareCredit, a payment plan provider, to help you manage the expense of receiving our high-quality dental care.
How Long Do Dental Veneers Last?
They can endure for many years with the proper maintenance. Your veneers will last longer if you take better care of them. Regular brushing, flossing, and avoiding foods that discolor teeth are all part of maintaining your veneers.
Likewise, use caution while biting into things! Be sure to chew everything thoroughly when eating hard candies or popcorn that might contain an unpopped kernel or anything else that could break or loosen your veneers. Also, avoid opening packages or cutting tape with your teeth! For frequent examinations and cleanings, you should also visit the dentist.
Do Porcelain Veneers Come With Any Risks or Side Effects?
Dental veneers rarely include risks or side effects. Temporary sensitivity to cold or heat is the most frequent side effect. Within a few days after the veneers are placed, this typically disappears.
The veneers could occasionally come off or come loose. If this occurs, get in touch with us, and we can swiftly assist you in restoring your veneers.
What Steps are Involved in Porcelain Veneer Installation?
Porcelain veneer installation is a simple procedure:
You will consult Dr. Hakhamian to discuss your goals and objectives.
We will prepare your teeth for the veneers by removing a tiny layer of enamel.
We will capture your teeth in impressions that we send to the lab.
When the veneers are prepared, we'll use specialized dental cement to attach them to your teeth.
High-Quality Porcelain Dental Veneers in South Gate CA
If you are dissatisfied with your smile because of the poor appearance of your teeth, porcelain veneers may be the right choice for you!! Omid Dental is committed to providing every patient with a beautiful, bright, and radiant smile that can completely transform their whole facial appearance. People who want to change something about their teeth are less likely to show their smiles and often appear unhappy! At Omid Dental, we believe that should never happen! We think everyone should love their smile, and we can help make that happen quickly, effectively, and comfortably. 
Omid Dental's Porcelain Veneers can give you a new lease on life and restore your attractive smile. Contact us today for a consultation with Dr. Ardy Hakhamian!