If you are unhappy with your smile because of yellow, dull teeth… ZOOM! Teeth Whitening in South Gate, CA may be the right choice for YOU. Omid Dental is committed to providing our patients with a bright and beautiful smile that can completely transform their whole facial aesthetics. Those with unattractive teeth are less likely to show their smiles and often appear unhappy or gloomy. ZOOM! Teeth Whitening is a quick and painless in-office whitening system that provides dramatic results!!!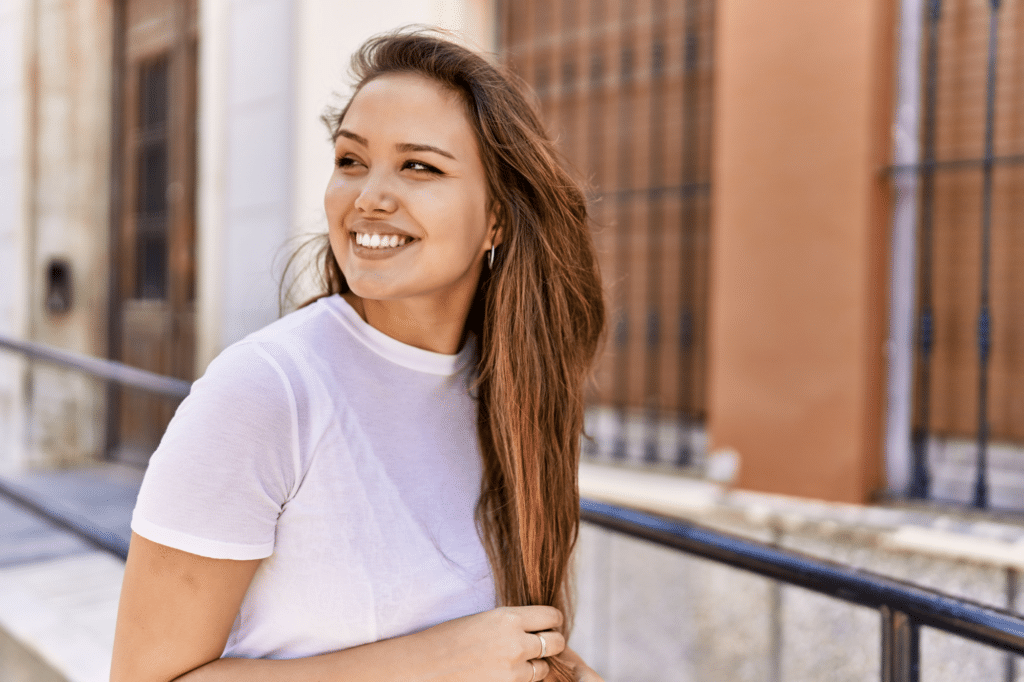 6 Benefits of Zoom One Hour Teeth Whitening
Your smile is one of the first things people notice about you, and a beautiful smile leaves a long lasting impression that impacts all aspects of your life. Unfortunately, there are many fun and enjoyable things that cause your teeth to become yellow over time, leaving you with an uncomfortable feeling showing off your smile. Zoom whitening helps to remove these stains while offering an array of benefits that stand out from other tooth whitening methods.
Promote Better Overall Oral Health
Although professional tooth whitening is safe, the results can vary according to your overall oral health. A dentist should always perform a comprehensive oral exam before starting a tooth whitening procedure.
During this exam, a dentist will check for underlying issues with your gums or teeth that could affect how the whitening process works. They may also recommend a dental cleaning that improves your overall oral health while removing surface stains.
Get White Teeth Faster 
There are over-the-counter products such as whitening toothpaste that you can use at home. However, these often take weeks to show any noticeable effects. With the Zoom method, you can expect to see your teeth become up to eight shades whiter within just one hour.
Enjoy Greater Comfort
Many teeth whitening products expect you to use trays that may not fit correctly in your mouth. Not only does this cause you discomfort as you stretch your mouth out of shape, but these trays can also cause the whitening product to move to your gums where the product can cause sensitivity.
Professional teeth whitening reduces the potential for negative side effects such as soreness or damaged enamel because Zoom allows the dentist to make sure the whitening product stays where it is supposed to on the teeth. This whitening procedure relies on a special light-activated gel rather than abrasives to lift stains so that the dentist is in full control.
Control the Outcome
During your initial exam, you will have the opportunity to work with the dentist to determine your preferred shade of white. Your current tooth shade will be recorded so that the dentist can monitor how white your teeth get over the course of the full treatment.
Although Zoom is done in less than an hour, the dentist breaks up your treatments into 15-minute sessions. At the end of each session, you will work together to decide if you are happy with the level of whiteness. Some people do not need to complete all of the courses, and having control gives you the best results.
Preserve the Whitening Effects
Once your teeth are a sparkling white, you want to make it last. Zoom one hour teeth whitening visits also include a discussion about how to avoid staining your teeth. For instance, you will be provided with a list of instructions to follow for the first few days to keep your teeth white.
Smile with Confidence
It only takes a few minutes to achieve a brighter smile that influences everything you do. From taking those special occasion photos to meeting someone new, you never have to do a closed mouth smile when you are proud of your teeth. Your white smile will also be motivation to keep up with your oral hygiene routine.
When you feel the need to hide your smile, take action. Call to schedule a professional Zoom whitening treatment at Omid Dental and get ready to flash your pearly whites at everyone you meet.